Over the past few years, we've seen a fair few add ons for guitarists wanting to use their iOS device as a portable rig, and whilst great for home practice (and, to a degree, studio use), their reliance on your device means that you'd probably want to avoid playing live with one if you value it not being potentially wrecked at the end of a show.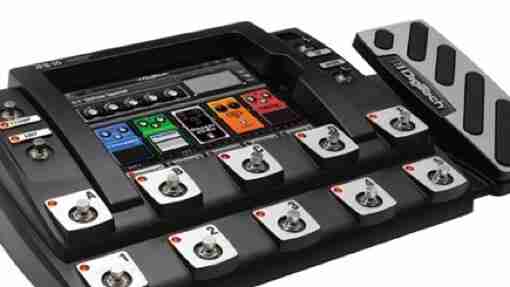 Thumbs up then to Digitech , an established name in guitar FX which has made use of iOS devices in some of its recent guitar tech in a clever new way – not as a portable rig or FX emulator, but instead as a useful means to configure using the iPhone/iPad's touchscreen.
The first of Digitech's iOS devices comes in the form of a guitar pedal (or stompbox) called the iStomp . This durable looking piece of kit hooks up to your iOS device via the 30pin connector, and is managed using the rather cool Stomp Shop app which is available for free in the App Store.
The Stomp Shop is a collection of FX pedal emulations that you can purchase and load into the iStomp, although two – a searing overdrive called 'Redline' and a clean sounding Digital Delay are included for free. The emulations, which include classics such as the Boss CE-2 Chorus, Electro Harmonix Small Stone Phaser and my favourite distortion pedal the Proco Rat, are great quality and can be loaded into the iStomp in around 30 seconds.
Although configured by the app, the iStomp can operate independently from it since the actual processing is handled from within the pedal itself, and the FX are controlled via four unlabeled knobs on the pedal. This frees you up from having to take an iOS device on stage with you and means you can simply treat it like a normal stompbox even when it's not hooked up to your iPhone or iPad.
At around $150/ £150 the iStomp is fairly well priced, especially when you bear in mind that any one of the FX pedals it emulates costs around half of that, and I'm sure Digitech will be adding value by extending the range of available FX in the future too.
The iPB-10 essentially takes the concept of configuring using an iOS device and scales it up from the iStomp considerably to create the world's first iPad-controlled guitar pedalboard. Rather than an individual guitar effect, the iPB-10 instead offers an entire rig, and with a pretty extensive range of options too.
Offering 87 FX pedals, 54 amps and 26 speakers, via the iPB-Nexus app it allows you to build your dream rigs and control them with a set of footswitches and an expression pedal. Like its younger sibling, it's built like a tank and can operate independently from an iOS device for live situations where you would want to avoid stomping on you iPad.
As with the iStomp, the sonic quality here is superb, the Fender Blackface and Marshall Super Lead amp emulations seem especially close to the real thing, as do many of the classic FX pedals included. The Nexus app also makes managing the available amps and FX far easier and more fun than the usual LED screens available on normal pedalboards too.
Since the iPB-10 contains pretty much everything the average guitarist could want from a pedalboard, and unlike the iStomp does not require any further app purchases, the $499/£400 price tag seems justified, just as long as you already own an iPad or are looking for a good excuse to get one.
Both the iStomp and iPB-10 appeal to me as both a geek and a guitarist, with the latter I regularly found myself sat on the sofa with my iPad using the Nexus app to build dream guitar rigs (and grinning manically for the most part) which I'd play through later on. It's clear Digitech have put a lot of thought into both the apps and hardware here and created some unique tools that will benefit iPhone/iPad wielding guitarists everywhere.
Review: The Ten One Magnus is a wonderfully minimal magnetic stand for iPad 2
I was convinced that it was a given that I could no longer be surprised by a desktop stand for the iPad. There are really only so many forms that a stand to hold a 10-inch tablet upright can take. Well, the Magnus from Ten One surprised me once when we first discovered it and again once I got it in hand to test out, so I stand corrected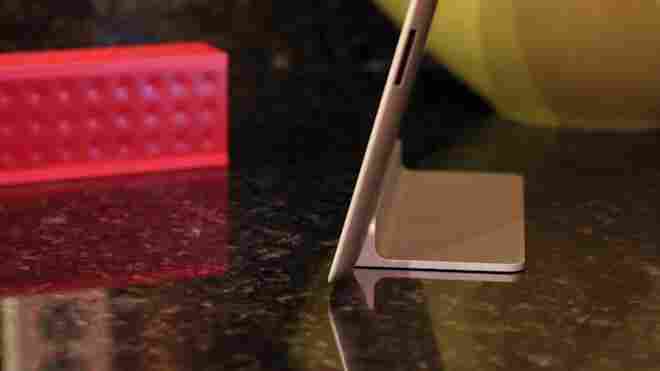 The Magnus stand is a product of Ten One Design, the company behind the cool Fling controller and the Pogo Stylus for iPads. The design is minimal, but intelligent, leveraging the magnets already built into the iPad 2 for use with the Smart Cover to attach the stand along the left edge.
This allows the stand to hold your iPad 2 — it's for the 2 only as the first model has no magnets — with a bare minimum of extraneous support. There is simply a foot and a cradle to place the iPad, that's it. No braces on the back, no clips and no easel.
Easily the most impressive thing about the Magnus is it's incredibly small profile. It barely registers from the front as a slim bit of trim holding the iPad up and outwards with a small foot on the back of the device. It makes for a pretty sweet presentation, almost as if the iPad is floating on its edge.
The magnet attraction is very strong between the stand and the iPad. This is due to the fact that there are magnets in the base, as well as inside the iPad's edge. This provides a better bond than relying on just one side to do the grabbing.
The rear foot is large enough so that there is never any real fear of the iPad tipping over on casual tapping. You definitely aren't going to want to be tapping out any lengthy emails while it's in the stand, but a tap or two to choose a song or launch an app isn't going to hurt anything. The strength of the magnets and the width of the foot on the back combined make it fairly sturdy, provided you don't hit it on the back side, of course.
Pushing with any amount of force on the back will tip it off of the stand, but not without taking it past 'vertical'. If you shift it from the back but don't get it past the vertical point, it will just settle back onto the foot. Honestly, it's far more stable than it has any right to be.
The foot alone makes takes up a small amount of space, especially as it's nearly flat aside from the front lip. This makes it easy to slide under the edge of a monitor or shelf when not in use. There are four rubber feet on the bottom that keep it from scootching across a surface, no matter how smooth. On my granite countertops in the kitchen, it was difficult to make it shift at all 'accidentally'.
It looks great, with a bead-blasted surface that matches the one found on MacBooks closely. It's also really good at holding the iPad upright, better than it should be given its design. If you're looking for a slim, stylish stand for your iPad 2 that takes up the absolute bare minimum of space, the Magnus is a good bet.
Ten One Magnus Stand for iPad 2 .
10 Fun gifts for photographers for under $100
As the holidays are approaching, we've already told you where you can find the coolest robot gifts for the robot-loving people in your lives. If you're looking for some ideas on what to get for your photographer friends and family, look no further.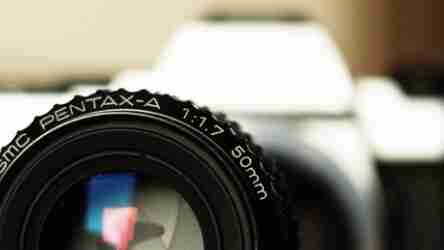 We've come up with a list of reasonably priced gifts, all available for under $100. With everything from accessories to jazz up your camera to a gift for a photographer who's a new parent – there's a little something in here for everyone.
500px has been one of the rising stars of 2011 among photographers, and while at $50 its annual subscription is more expensive than Flickr's, it seems that a lot of photographers are migrating over to the sleek photo sharing service.
As 500px put it, you can give the gift of awesome , or in other words, upgrade their account to pro. With a pro account they'll get to use a custom domain, get unlimited storage space, a premium portfolio and more.
Have a friend or relative who is a coffee-loving photographer? Then you really don't have to look any further than Photojojo's Canon Camera Lens Mug . A hot item in the store, you can opt for the 24-105mm black lens for $24, or if you need a little bit more, there's the white 70-200mm mug for $30. Now all they have to do is make sure they don't get their mugs and lenses mixed up. If you're in the mood for something a little stronger, you could always ditch the lens mugs and go for the shot glasses instead.
The Nice Clip is a great little gift for the absent-minded photographer. If you know someone who is always putting down their lens cap while shooting, only to forget where they left it – the Nice Clip is a great little stocking stuffer.
Permanently attached to the lens cap, you can use the clip to attach your lens cover to your shirt, cap, camera bag strap – pretty much anywhere you can put a clip. Funded by Kickstarter, the Nice Clip will set you back only $9.95 for one clip. You can also get a pack of 3 for $27 or 5 for $45.
PetaPixel is not only one of the best photography blogs to follow out there, there's also a little store on the site with some pretty cool photographer paraphernalia.
It was hard to choose just one from the small collection, but in light of all the attacks that photographers have come under in the US and beyond, as the Occupy Movement has taken off, keeping a card listing a photographer's rights seems pretty handy.
While the cards will only cost you $9, you can create your own cards with the list made available by PetaPixel here .
Blink Camera Lens Caps aren't available just yet, but if you're looking for a unique gift for the photographer in your life, you could always contribute to the fundraising efforts in their name. Contributing just $25 will get you one 58mm lens cap, a 10 page PDF showing 10 designs that never made it to the final 6 caps, an animated 30K flash banner and gif banner to show your support, and a "big thank you email." Contribute $50, and you get a t-shirt thrown in.
While Blink have a long way to go before they reach their $55,000 goal, the lens caps with the coolest tagline ever, 'Make your camera smile,' are definitely deserving of some attention. The colourful and creative lens caps will catch the eye of any photographer, but our personal favourite has to be the mustached lens cap.
If you really want to jazz up a camera, you could always get a bright, colourful strap to go with the Blink camera lens cap. Etsy is a great source for unique SLR camera straps. A couple that really jumped out at us include the $24.99 option from Funky Straps , or if you want something both attractive and functional, there's also the $28 quilted camera strap with a lens pocket built in, which comes in several different patterns.
If function is what matters the most, then for a little extra, the Black Rapid RS-4 camera strap , available for just over $50, is a great and practical gift for a photographer.
A photographer you know has just had a baby? Rather than get them a gift, you could just skip right past to baby, and choose from some great onesies available on Etsy. Our favourite has to be the Vintage Camera Onesie , available for $24, followed closely by yet another vintage choice with a TLR camera , available for $14, instead. Did we mention that we're fans of vintage here at The Next Web?
While most photographers would probably prefer to pick out their lenses themselves, there are a few exceptions. If you don't know which lens they need to add to their collection, you could always get them a creative lens which lets them take their photography out of the box. Photojojo's Dreamy Diana Lens is compatible with both Nikon and Canon DSLRs, and the lens and adapter cost $60. And while you're back over at Photojojo you might want to look at their entire collection, because each and every item belongs on a photographer's wishlist.
Looking for a decent flash diffuser? Look no further than the Puffer Pop Up Flash Diffuser . For $21.95, the diffuser is compatible with Canon, Nikon, Pentax, Olympus and Panasonic-Lumix, and will have your photographs looking better than ever, enhancing the quality of light in your photos.
Blurb , an online service which has done pretty well for itself , allows you to create a book of your own, and even gives you the opportunity to sell them through its online store. With a Blurb gift card , you're giving a photographer the chance to see what their own photographs look like in print.
Do you have any suggestions for cool gifts for photographers? Let us know in the comments.