Whether a gadget is pretty or not shouldn't always be the deciding factor on whether its for you. but time has shown that those devices that encourage you to look at them, interact with them, feel them and just simply use them with the beauty of their design are often the ones that are the most successful in their mission. Attention to design and beauty speaks of the care of the creator, and who wouldn't want a product that has clearly been created with passion and intensity?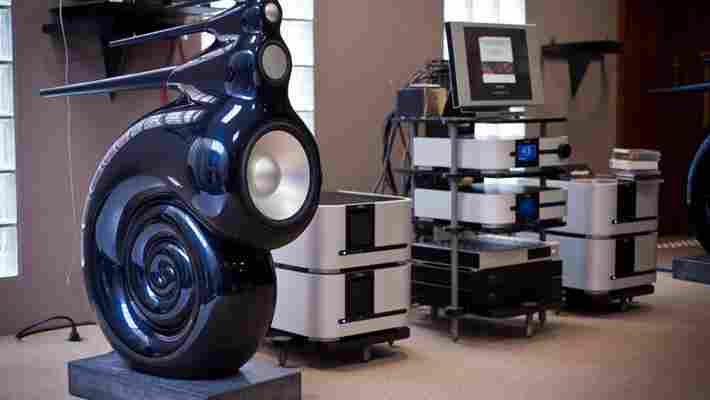 There have been many products that exemplify the confluence of the form an object takes, its function and the care put into it by its creators. We'll take a look at just seven of them here, with a few additional examples that could easily have made the list.
The first iPhone was a watershed moment in portable computing. You may get some naysayers who will say that the design of the iPhone was simply an amalgamation of what had come before, but the fact is that it was completely different than any other cell phones in 2007 or before. It brought together the design sensibilities of Jonathan Ive, influenced by Braun's Deiter Rams, with a functionality so revolutionary, it has shaped nearly every smartphone that has come since. The iPhone is a supreme example of the function informing the form and it will be held as an example for years to come. See Also: Apple iPod 3rd Generation
The E-type Jag (or XK-E), although an automobile, still qualifies as a gadget in my book, as it was one of the first production cars designed almost completely usig the principles of aerodynamics. This car was meant to move quickly and smoothly through the air, keeping its tires in contact with the road. Wonderfully, those design principles also produced a supremely beautiful car that is still one of the best looking ever made. This kind of desing-by-experimentation was also exemplified recently by the Bughatti Veyron, which was essentially an exercise by VW in 'lets see how fast we can make it go', and also produced a thing of beauty. See also: Lamborghini Aventador
If you wanted to consider a gadget as the harbinger of all of the beautiful electronic devices that we get to use today, it would be the Braun T1000 radio. Designed by the renowned Deiter Rams, its simplicity and slavish coherence to the principles of the form serving the function has stood as a beacon of minimal design in gadgets. It would all go off the rails in the 80's, when gadgets got complex, chunky and adorned with needless flash, but thankfully the example set by the T1000 has begun to come back around again in the last decade. See also: Braun BN0035 Watch
The first Fisher AG7 Austronaut Pen was developed for use in zero gravity, underwater and at any angle. It was a gorgeous gadget that had a pressurized cartridge that allowed the ink to flow around the tungsten carbide ball point no matter what. But my money is on the "bullet pen" version of the original. With its smooth capsule shape and precisely fitted cap that can be reversed to transform it into a full-size pen, the bullet really looks like a pen from space, and feels like a bit of the future in your hand to this day. See also: Original Fisher AG7 Space Pen
Although it was not one of the best cameras in terms of image quality, the SX-70 from Polaroid was certainly a beautiful device. It had a lovely folding design that set the tone for the shape of Polaroid cameras for the next 30 years. It was also the philosophical precursor of the digital camera. An easy-to-shoot and nearly foolproof camera that allowed you to see your images within seconds. For what was an interestingly complex asembly of hinges and rollers, It was also remarkably durable. I've handled 35-year old SX-70 cameras that operated as if they were new. That's something that you won't be able to say about the smartphone that you've got in your pocket right now. See also: Leica M6
Shaped like the shell of some huge prehistoric sea dweller, the Nautilus from Bowers and Wilkins is a loudspeaker that looks like no other. The conical chambers and swooping lines look like a visual representation of the sound that comes out of them, bold and crisp. Widely lauded, then derided, for their convention-breaking design, the Nautilus has come to be recognized as a turning point in the design of loudspeakers. The cone shapes aren't just a design flourish. Instead, the clever design allows the enclosures to produce sound that is almost completely unaffected by the enclosure that it comes out of. Instead, it appears out of thin air, just as it was meant to sound. See also: MartinLogan Summit
To this day, the Sony PlayStation 2 is still the best selling console of all time, with 150+ million units sold. A good design doesn't always guarantee success, but in this case it definitely didn't hurt. The PS2 may look a bit hard-edged by current design conventions, but it was a true product of the millenium. Angular, incredibly thin for what was essentially a computer, the PS2 personified the burgeoning cyberspace culture. It could just as easily have been a 'deck' used to access a huge virtual world in a William Gibson novel and it had visual ties to vintage gadgets like the Bang & Olufsen Beolit 707 . The revision of the PS2 to make it thinner and smaller later in its cycle produced a product that could easily stand alongside the Xbox 360 and PS3 and not look out of place. See also: Apple TV 2
Decisions, decisions. Consumers favor iPad over Kindle by 2 to 1 Margin says Hitwise
When it comes to gadget battles, the iPad is the hands-down winner in a matchup against Amazon's Kindle reader. Hitwise Intelligence , the online research arm of credit rating agency Experian , says that the iPad is two times more popular than the Kindle based on Internet search volume.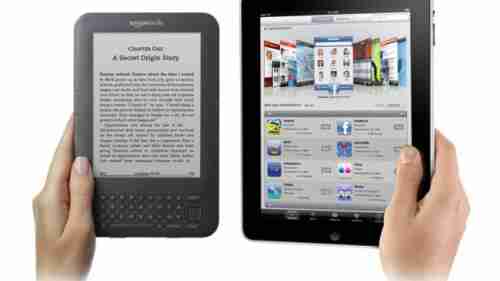 What's also interesting to note is the data Hitwise compiled about people who are searching for both the Kindle and the iPad, a so-called "Alpha Territory," of consumers who might be persuaded to buy one device over another. During the course of the 12-week study period, 65 percent of people searched exclusively for the iPad, with 27 percent of folks searching exclusively for a Kindle. In the middle are eight percent of people for whom the iPad or Kindle would be adequate. I don't see Apple sweating the loss of those in the "fighting ground" as much as Amazon would like to acquire them, but I'm sure neither wants to give up turf to a rival.
The data has retailers scrambling to make ready for the Christmas shopping season, which is now a mere three months away. Both the Kindle and the iPad are going to be hot gift items for consumers.
One way in which Amazon is at a disadvantage is that they've created a pretty good Kindle app that works on the iPad and iPhone, for reading ebooks. The same cannot be said of Apple creating an Amazon Kindle version of its offerings, though Amazon is hoping to go toe-to-toe with its own app store. Perhaps the real question here is how the iPad can be only twice as popular as the Kindle online.
The iCade takes me back to a time when quarters were like gold
I once went to a water park and spent the entire day beating the Top Gun arcade game over and over with a buddy. By the end of the visit, two quarters was all we needed to blast our way through to the end, two skinny kids with dripping neon swim trunks and cheap sunglasses hanging from our necks on Croakies . Constantly aware of girls with their oh-so-tan shoulders, leaning in at the edge of the cabinet, watching our progress.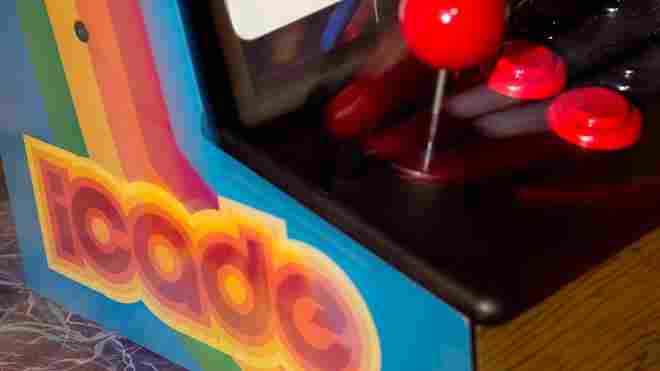 Good or bad, the 80's was where I spent my formative years and arcade games were a huge part of that.
That's why the iCade is so awesome. It's a tiny arcade cabinet that's built to resemble the hooded arcade cabinets many of us grew up with and houses a standard iPad or iPad 2.
There are 8 arcade-style plunger buttons and an 8-way stick. The build quality is great and pretty much nothing about it feels cheap. Unfortunately, until more games support it, its real potential is yet to be seen.
The  iCade is the result of an April Fool's joke by distributor ThinkGeek . After the jokey iPad arcade product got an incredible level of interest, the company decided to actually source a manufacturer and get it out there for customers to actually own. The original design featured some copyrighted Nintendo graphics, which have been stripped off in favor of some early 80's flavored 'iCade' signage, but other than that, the current production model is pretty much what was shown in the original listing.
My testing of the iCade has left me incredibly impressed with the overall craftsmanship. The casing is solid fiberboard and plastic and once it's together it feels solid and dense enough to withstand some real button pounding action. While light enough to lift and more, it's heavy enough not to scoot around like crazy when you're using it on a table top. This is aided by rubber feet that provide a scratch barrier as well.
The front is covered in an appropriate faux-wood decal and the sides have the aforementioned bright graphic panels. In a nice touch, the top flips up to give you easy access to the 'dock' area where your iPad sits. The front features an illuminated dummy coin slot that serves an additional role as an indicator of power. Since there is no on-off switch, the iCade has a short auto-off timeout. Simply stop using it for a couple of minutes and it will power down.
The whole cabinet is powered by a set of AA batteries that are inserted into the underside. I've been able to get several days worth of casual play out of one set.
The buttons and stick all feel very robust. The throw and strength of the springs in the buttons is a bit more aggressive than I'd like, which makes it hard to get the rapid fire clicking you'd get from a Street Fighter or another traditional cabinet, at least so far. I have a feeling that the buttons will wear in over time though and feel a bit less stiff.
The stick has a large dead spot, as you get with most arcade-style sticks, which are meant to be slammed around and rotated. The stick is a standard 8-position, which makes it great for games that require lateral or vertical movements like Tempest or Breakout. It's not quite as pretty a picture once you get to stuff like Missile command though, which was originally controlled by a trackball.
The iPad seats nicely into the holder, although it can get a bit wobbly if you really go at it. Simply extending the slot across the entire width of the cabinet would fix this problem. There's no real reason for it to only be 3″ wide.
So far, everything is wine and roses. The iCade really delivers on quality and aesthetics. It's easily worth the $99 that it runs on ThinkGeek. Unfortunately, you also need games to play and currently that is pretty much limited to the 99 games available in the Atari Greatest Hits app, most of which you have to purchase on your own if you want things to play.
The iCade connects to your iPad over Bluetooth as a keyboard. You can actually see the key mapping of the directions of the joystick and the buttons on the underside of the top cover. Because it connects as a keyboard it's fairly easy to build in support for the cabinet and there is already an SDK out there for developers who want to support it.
This means that we should start seeing iCade support in more games soon, which is the only thing that would stop me from recommending the cabinet to any arcade fanatic. I've spoken to developers like Bjango who are already integrating iCade controls into their app, so hopefully it won't be long before we have more options.
As far as what's available now, we played quite a few of the Atari games like Breakout, Centipede, Missile Command and Tempest, as well as many of their Atari 2600 cousins. Some of them translate better than others though and many would need a lot of tweaking before they had the same feel with the iCade as they did in the arcade.
The iCade is an incredible reproduction of an arcade cabinet at iPad size and a rare example of wish fulfillment for people with an arcade fetish and an iPad. The build quality is top-notch and the feel of the controls are well within tolerance for an old arcade junkie.
The only thing holding the iCade back from an unreserved recommendation from us is that the stable of supported games is fairly anemic. With a growing number of game developers like Bjango and Manomio , the creator of the Commodore 64 emulator for iPhone, now getting their iCades and starting to work on support, that could all change quickly. I would really love to see larger game companies like Capcom start to make Street Fighter and other games compatible as well.
This could make the iCade a must have for anyone looking to take a trip back to when you could impress girls by beating Top Gun on two quarters.
The iCade runs $99.99 at ThinkGeekom .