Since it launched in 2003, the Luxembourg based Skype has secured itself as the preferred application choice for VoIP global communication. The now Microsoft-owned company lets Skype users message, talk and video chat with each other in addition to offering low Skype calling rates. Currently, Skype works on connected devices including computers (PC, Mac or Linux), iPhone, iPad, Android smartphones and even Skype-enabled HDTV.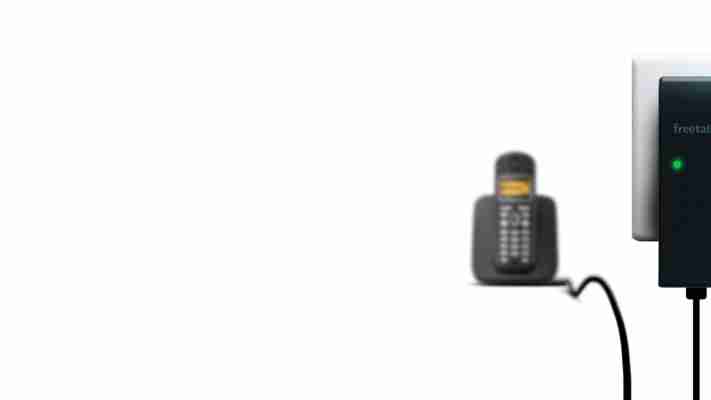 Today, Skype is taking one step back from its futuristic phone plans and targeting users who still rely on good old landlines with its FREETALK Connect•Me Home Phone Adaptor, which lets users take advantage of free Skype to Skype calling as well as low-cost Skype calling from their home telephone. To use the FREETALK Connect•Me Home Phone Adaptor, users need to first purchase the adaptor (pictured below) and then connect it into their existing phone. So, now Grandma can Skype you from her home phone to your computer while you're Facebooking and Tweeting.
FREETALK Connect•Me Home Phone Adaptor Bundles include:
More than 60 minutes of complimentary free calls to landlines and mobiles via Skype ($39.99)
12 months of calls to landlines and mobile phones in the U.S. and Canada and 200 minutes of calls to international landlines and mobiles ($59.99)
3-month Unlimited World subscription to the US and Canada plus landlines in 40 other countries ($59.99)
Skype has been certifying third-party hardware for years such as the ASUS VideoPhone, Grandstream and RTX Dualphone. According to Skpye, "the FREETALK Connect•Me adaptor, which can store up to 100 speed dials/Skype contacts, only requires a PC for the initial set up. Cord and cables to connect to home phones and to the Internet are included in box. To use it, all a consumer needs is a broadband Internet connection and a home phone. This means that once set up, they don't have to turn on their computers to connect with friends and family through Skype. If the user wants to make a call using their traditional landline, the FREETALK Connect•Me Adaptor allows them to choose that option as well." In addition to this new device, Skype is also selling a Skype edition GE Cordless phone (pictured below) featuring a Skype calling interface and integrated Skype contact list.
Check out the products and further pricing information for the FREETALK Connect Me adaptor and GE Cordless Phone at the online Skype Shop .
Kinect hacks just keep getting better [Video]
The way developers are hacking Microsoft's Kinect motion controller to lead it into all sorts of exciting new directions continues to impress. While some are using it as a musical instrument controller , others have taken it into the world of dance.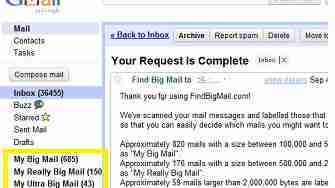 This impressive video was sent through to us from Singapore. Edwin Toh, a developer at Kinetic Singapore, expains that it was created as a marketing stunt for drinks brand F&N. "Dancers are transformed into colourful bubbles which react and replicate the dancers' moves," he says. "As dancers groove to the music, sounds will be triggered. Depending on which screen region the dancers move to and trigger, different pitches will be produced, leading to a unique mish-mash of creative sounds and movements."
Beyond the fact that brands are now jumping on the Kinect hack bandwagon, what's exciting about this video is that it looks just like a pop video but rendered in real time. If developers are doing this mere months after Kinect's initial release, what will they be doing in a year from now?
iBamboo: an electricity-free iPhone 4 speaker system, and a nice snack for a panda
Kickstarter is a source of seemingly endless iPhone accessories just waiting to raise the funds to come to market, but this one caught our eye. iBamboo is an alternative to mains or battery-powered iPhone speaker systems, instead using the natural power of… bamboo.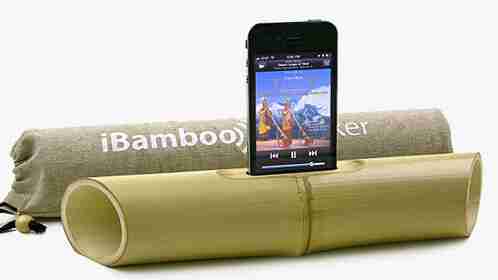 Yes, US-based Triangle Tree (whose other products include an edible spoon ) have come up with this design, which uses a whole length of bamboo with a laser-cut slot that snugly fits an iPhone 4. Then, you just fire up the music player app of your choice and the hollow bamboo shoot naturally amplifies the sound from the phone's built-in speaker. The designers say that the shape of the bamboo means that sound waves move in two directions at once, intensifying the stereo effect.
This patent-pending design needs $10,000 to come to market. Only 14 people have pledged funds so far on Kickstarter , with $495 raised to date. If you, or your favourite neighbourhood panda, wants to see iBamboo become reality, you'll need to sign up on Kickstarter in the next 30 days.